You are here:
Home
> Products >
GPS Tracking Devices
>
Mammals
>
Small Mammals
> Bat
Miniature GPS for Bat
Reliable GPS with remote data download as light as 30 grams!
Our GPS data loggers start at just 2 grams. The weight increases in very small increments as larger batteries are used. Telemetry Solutions is already producing GPS data loggers in large quantities just for bats!
Since you already know where the bats rest you are probably more interested in their foraging destinations. Our free user interface software will prove extremely useful as you program your bat GPS data loggers to acquire GPS positions at the dates and times that you need them. That prevents using precious battery life at times when the bats are just hanging around.
HOW IT WORKS
---
Bat & Small Bird GPS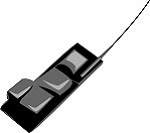 Get Product Sheet

»
Standard Features
User creates unique GPS programming schedule
Outputs GPS position and temperature
Waterproof
User controls relationship between battery longevity and GPS precision
Tested to withstand pressure from diving birds
Options
There are no options available for this product
---