You are here:
Home
> Products >
GPS Tracking Devices
>
Mammals
>
Medium Mammals
> Fox
Reliable lightweight GPS tracking device for Fox
Strong but small collars with remote data transfer
Welcome to the premier site for medium wildlife GPS tracking collars. Offered in a wide variety of sizes, shapes and weights, we tailor your GPS telemetry collars for your work. Starting with a miniature tracking device capable of acquiring GPS locations in the most difficult conditions we add wireless data download, activity sensors or Smart GPS to enhance data sets and prolong battery life of even our smallest tracking collars.

Collars include a VHF transmitter and GPS receiver each working from its own battery. That means peace of mind for you when you are in the field using VHF to locate animals. Our user software is a powerful tool enabling you to program your collars in almost any way imaginable. To read more in depth about this device please click on the How It Works Button below.
HOW IT WORKS
---
Medium GPS Collar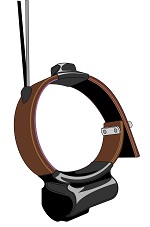 Get Product Sheet

»
Standard Features
Reliable - multiple references happily provided
Highly adaptable - GPS positions at user set time interval or following your unique schedule
Rugged collar material
Track it-VHF transmitter included
User setting to extend battery life or improve precision
---