You are here:
Home
> Products >
GPS Tracking Devices
>
Birds
> Pheasant
Low weight GPS data loggers for Pheasant
Include Smart GPS and remote download for more data sooner
Starting at 2 grams we offer a myriad of bird GPS tracking choices that include intensive GPS positioning, custom low profile design, light weight, automatic and remote GPS data download. Our ordering process is honed to eliminate complication and ensure that your waterproof, aerodynamic and hydrodynamic seabird GPS data loggers will be designed for you with the features you need.

Value added options such as the Smart GPS feature will eliminate squandering precious battery life on behavior like nesting while focusing more on GPS positioning during flight.

If you are ready to work with a company that is responsive to your needs you have come to the right place. With offices on three continents our full time sales and customer support staff will answer your inquiries within 1 business day.
HOW IT WORKS
---
GPS backpack for Gallinaceous Birds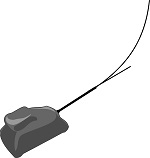 Get Product Sheet

»
Standard Features
Accuracy within 2.5 meters, user controls the accuracy
Highly programmable, using an interval mode or a detailed schedule
Customized for your needs
Long battery life
---