GPS Tracking System for Wildlife
GPS tracking system for wildlife research varies widely from company to company.  We understand that it may be difficult to make sense of the information included on various companies' websites.  It is the goal of this website to simplify our product feature descriptions to save you time.  After a few minutes on our website, we expect you will have nearly a full understanding of the GPS Tracking System for wildlife that we offer.
Wildlife GPS devices starting at 5 grams of total weight
Our specialty is in custom design and manufacture GPS Tracking System for wildlife with the best technology and with maximum battery life.  These systems are also lightweight and humane for the study animals. Our handcrafted GPS, starting at 5 grams total weight, is ideal for small mammals, herp, and birds. To see the various wild animals for which we have made GPS tracking devices please visit the Field Tested GPS page. You can search previously built and shipped GPS tracking systems for wildlife by Telemetry Solutions here. Also, our Products page has a product comparison table for your convenience and we encourage you to take a look at it.
All of the Telemetry Solutions GPS tracking system for wildlife research transmits the data remotely.  This is accomplished either by a field download to a handheld receiving device (Base Station) or by a satellite transceiver (Satellite Download).
Tiny GPS with long-range download up to 20 km
Telemetry Solutions' smallest GPS tracking system for wildlife is 5 grams and includes wireless data transfer of up to 12 km (Long-range Download).  All GPS data that are collected are always stored in the device memory even after they have been transmitted.  The only way to remove data from the memory is for you to instruct the device to erase it.  The memories are huge, they won't fill up so don't worry about that. (Read: Fox GPS collar found in woods 5 years later with 13,000 GPS positions)
Various size and application choices
Our GPS products such as Nano, Micro, Small, Medium, D.I.Y. Backpacks, Implants, and Collars are feature heavy.  Three of our products' most interesting features are Smart GPS, Activity data logging and GPS Additional Time.  You can read all about these on the Features page of this website.
The products are 100% custom made in The U.S.A. We maintain 365 days per year customer support for our clients.
Contact us today to let us know about your specific wildlife telemetry requirements. Follow us on various SNS channels for news, product updates and promotions.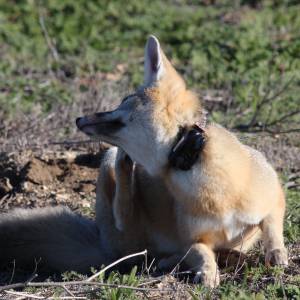 GPS on Fox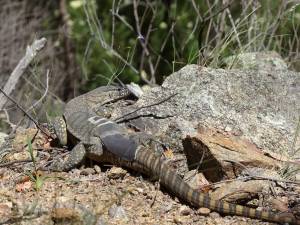 GPS on Goanna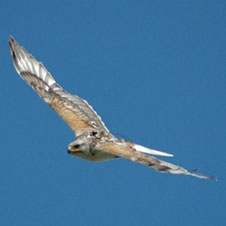 GPS on Ferruginous Hawk

Follow Telemetry Solutions!