Testimonials
A
t
Scotia Wildlife Sanctuary
in western New South Wales, AWC has deployed advanced technology Iridium GPS collars on 12 feral cats since the beginning of June. Made especially for AWC by the manufacturer, this is the first time that such collars have ever been used on feral cats.
The collars send data via satellite to a desktop computer, which dramatically increases our ability to gather and analyse movement data. Initial results are stunning: one feral cat has moved over 125 kilometres, while two others have moved more than 60 kilometres.
Such movements have never previously been recorded. Understanding behaviour like this is critical to the design of feral cat control including developing an effective strategy for a potential gene drive solution. – Atticus Fleming, Chief Executive, Australian Wildlife Conservancy: GPS/Iridium Pod with VHF Collars
T
he long-distance download of these collars is great and I have been able to get some downloads without too much hassle. – Matthew P, Wildlife Biologist, Tasmania, Australia:
Small GPS Collars
for Feral Cats
T
hanks again for all your post purchasing assistance, you guys provide a pretty amazing support centre for us special needs biologists. – Drew L.:Â 
Medium GPS Collars
for Tasmanian Devil. Read about Save the Tasmanian Devil Program
here
.
I
just wanted to let you know that the GPS downloads are going great. This tech is so much better than what we were using before. We have been able to download 11 of our 13 collars without much effort. One collar even downloaded from at least 2 miles away….We are very happy with these collars so far. – Tory. W.:
Small GPS Collars
for Kit Fox
   
T
he remote download worked great! – Arthur S.: Quantum 4000ER GPS Collar for Lynx. See the product 
here
.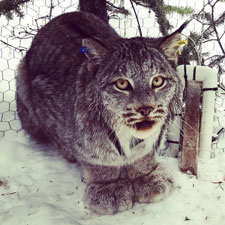 W
e've been impressed with how your units have performed compared to the others that we have tried. There are two traits that have made your collars our preferred model…1) 24-hr VHF beacon 2) base station. – Jace T.:  FLR V GPS Collar for Kit Foxes
T
o give you a bit of an update we are back in Perth now and managed to get five collars (Fox 1 – 5) on foxes: 3 males and 2 females. The collars are working well. Pete and I played around with mapping the fox GPS points against each other and some landmarks today and it is really interesting. Two of the collars: Fox 3 and Fox 4 both show these foxes going back and forth rather than round and round. As it turns out there is a good reason for this. These are the two collars on the female foxes. What seems to be happening is that they are heading out and then returning to their dens. We thought that this may have been the time of year that the females are rearing pups,
The collars are programmed to a 90 second time out and 30 second additional time. This actually seems to be working well and the fixes are still quite precise on these settings. I know this because we pulled the fixes that we suspected were the dens sites, put them into a handheld GPS and managed to find the dens for both the collared females. The GPS took us straight to the dens. We actually saw pups in the den of fox 4 – see attached photo (a little hard to see but they are there) and we strongly suspect that fox 3 also has pups or will do very soon. We have set up remote sensing cameras outside both of the dens. So hopefully we will soon be getting photographic data as well as GPS data.
Thanks for all the support with the collars. I really appreciate it particularly the last minute emails and calls. – John S.: GPS collar with satellite data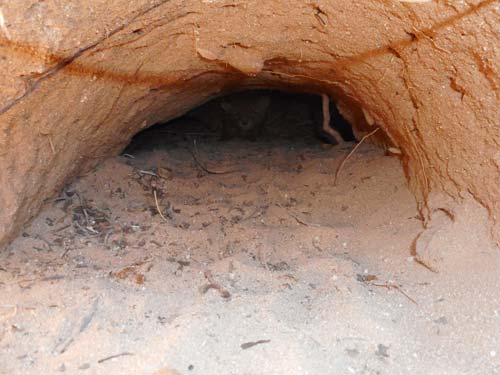 T
HANK YOU so much for your help in providing us with GPS collars for our 
Badger-Cattle Contact Project
. From our initial enquiry, Telemetry Solutions has provided outstanding customer service but Telemetry Solutions went to great lengths to ensure we received a product that would work for our project. 
Read more
-Â Kelly Moyes, The Zoological Society of London: Quantum 4000E Medium Collar for Badgers
O
ur trial with the Quantum 4000E Medium Collar on Tasmanian devils went exceptionally well. We received good position estimates and probably the greatest result was that the collar (with the polyurethane elastomer coating) was particularly kind to devils at the site of attachment, with no abrasion, fur loss, or noticeable irritation throughout our trial which we ran on captive animals for a total period of 5 months."-
Sam Thalmann-Wildlife Biologist, Save the Tasmanian Devil Program: Quantum 4000E Medium Collars on Tasmanian Devil
B
enefits of GPS telemetry include increased precision and reduced sampling bias in location estimation, increased ability to monitor wide-ranging species, increased insights into climate-movements and habitat-movement. We were able to successfully download find-scale GPS location data from our collared pheasant. Using the collar and the SW Telemetry Solutions program, we downloaded pheasant location data and were able to convert them into shapefiles for analysis in ArcGIS or KML file so data can be viewed on Google Earth." –
Dr. Aaron Haines, Upper Iowa University: Quantum 4000E on Ring-necked Pheasants
W
e retrieved one of the test cats that had a Quantum 4000 collar on it, and the data were incredible. I've attached a rough map."
Read more
  –
Hugh McGregor. Mornington Wildlife Sanctuary, Australia: Quantum 4000E on Feral Cats
D
uring the summer of 2010, the Nevada Department of Wildlife purchased 10 GPS units from you for a pygmy rabbit project. To date, we have attached 8 of the GPS units to rabbits, and have collected thousands of data points. 
Read more
–
Bradley Baumen, Wildlife Diversity Biologist, NV Department of Wildlife:Â Quantum 4000E Mini Data Loggers on Pygmy Rabbits
I
was surprised to find that it is possible to have GPS devices for tortoises.
I'm a researcher familiar with wildlife monitoring techniques, especially VHF and GPS, which I used to study large carnivore (European lynx, wolf and brown bear) and tortoises (Testudo hermanni boettgeri). I was surprised to find that it is possible to have GPS devices for tortoises. They must be lightweight, flat, have a reasonable life expectancy, and a reasonable price. I found Quantum 4000 units, with special design for tortoises, very light unit only 55 grams, replaceable batteries.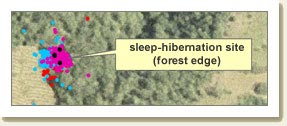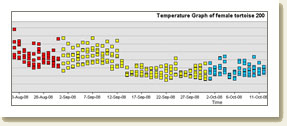 The results were surprising. In four months each tortoise has 4 positions per day, doubled by the values of temperatures recorded outside the carapace.The GPS works very fine on a very steep terrain, open meadow or in very dense forest.
Clearly, I will succeed to build models of habitat occupancy and define effective protection systems for Hermann's tortoise. -Â Dr. Laurentiu Rozylowicz, University of Bucharest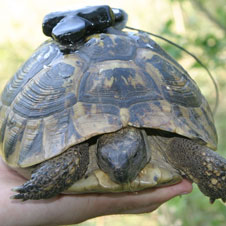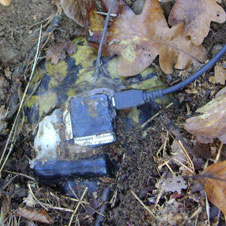 W
e now have four collars on free-ranging lemurs in four different groups and the data is excellent. The remote download allows us to monitor the units for proper functioning plus carry out ongoing analysis, particularly of group interactions. –
Ken Glander, Ph. D Professor, Department of Evolutionary Anthropology: Quantum 4000E on Lemurs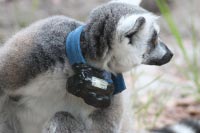 T

hey are really quite a good product. –

Tim Sallows, Riding Mountain National Park Wildlife Lab: GPS PODs on Elk

I

got 2 of the 3 collars out on female grizzlies. They are working perfectly… And the data downloading is great.  –

Dan Carney, Blackfeet Tribe Fish & Wildlife: Quantum 4000 Collars on Grizzlies

R

ecovered the first Quantum 4000 of the 2009 season yesterday, one-month deployment at 10-minute intervals on female black bear with three cubs of the year. Performance of the GPS logger with the updated firmware was great! –

Katie Callahan, NH Fish and Game Dept: Quantum 4000 Collars on Black Bears

W

e got EXCELLENT data from the GPS Capercaillies! We are VERY happy. We successfully recaptured the birds and put on the new units –

Per Wegge Ph. D Professor, Norwegian University of Life Sciences: Quantum 4000 on Capercallies.

I

have employed the fox collar, with a lot of success. The success rate of GPS-fixes was very high, even in dense forest. –

Jaap Mulder: Quantum 4000E Collars on Red Fox.

Follow Telemetry Solutions!